Phoenix Urban Farm
We had a productive project weekend at the Phoenix Urban Farm.  Joe W. has a vision to co-create a co-op based Permaculture Center with community stakeholders.  He envisions a "community engagement center" where individuals can benefit from housing and employment opportunities, using their own talents and passions to contribute to the co-op.
For more information on Joe's vision, see his write-up below.
---
Full Moon Workday and Frolic
Joe held a work day this past weekend, with help from members of our TimeBank and others from the neighborhood.  Here are some photos from the day.  (click photos to see slide show/captions).
---
Phoenix Urban Farm
Training Center for Self Reliance, Off grid living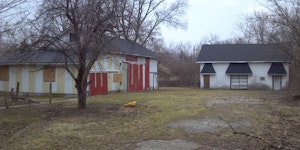 We are a training center for self reliance and off grid living. We provide an urban environment in multicultural area of the city with easy access from I 465 and public transportation.
Our long term vision is:
To rebuild the farm house, barn, carriage house, the land into sustainable enterprise that will serve the needs of the local community.

To provide site space for special needs housing, sheltered workshop, permaculture training center, retreat location, agri-summer camp, entrepreneurial center.

To co-create the center with our neighbors and interested individuals, other like-minded community and neighborhood organizations.
To learn more about Joe's vision, click on thumbnail to see his write-up:

For more information, contact Joe Werle at werle.joe@gmail.com